Remembering
Bishop La Verne
(Lizet T. Raquel)
BISHOPLaVerne Diwa Mercado is like a legend. I recall having heard many good things about him – about being the first National UMYF President, about the power of his preaching, his courage and integrity as the General Secretary of the National Council of Churches of the Philippines during the martial law years and his dedication to the church and to God. But that is not just how I remember Bishop La Verne. As I look back at how he has touched my life, I recognize that he influenced me, particularly in some of the critical decisions in my adult life.
Ninong La Verne is our ninong in marriage and he was very much like a father to me. But before that, as a UMYFer, whenever I would give a testimony or a reflection, he would compliment me and encourage me to continue to dedicate myself to God. Last Saturday, Bishop Daniel Arichea remarked about Ninong La Verne's love and concern for young people. He was already being teased as the Bishop of the UMYF even before he was elected bishop. But to me, his affirmation was more than just a source of strength, his character demonstrated a humility and genuine affection that comes from a true Christian.
When my mother died, I was about 22 years old at the time, Ninong La Verne ministered to me and my family and he gently suggested to me, "O wag ka muna maga-asawa ha. Wait about three years." And it was only after three years that I married my husband, Norman. Every Christmas we would publish a newsletter about our family for our loved ones and very close friends. I remember writing most of them with Ninong La Verne in mind. He always appreciated and even anticipated each newsletter. If we were late in distributing them, he would tell us that he was looking forward to our newsletter that year. Indeed, he shared in many of our joys and we shared in his. A few months ago, he had laser surgery to correct an eye problem. And he said the sweetest thing a husband can say about his wife, he said, "You know, when they took the bandage from my eye, I looked at Nellie and I saw that she was even more beautiful than before." Each moment with him and Ninang Nellie was a joy and a celebration of life.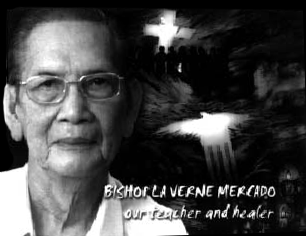 In the summer of last year, Norman and I had already decided that I would go to the seminary for theological studies. We had not told anyone about it but Ninong La Verne and Ninang Nellie came up to us one Sunday and Ninong La Verne said, "You know what Lizette, maybe now that your son is older you can pursue your individual goals. Maybe you can study at the seminary?" I do not know how he was able to discern that but he affirmed God's calling to me. When we told him that we had decided to do exactly that a few days earlier, he rejoiced with us and talked about finding a sponsor for me and was already talking about me taking a doctorate degree in the United States. Ninong La Verne helped me to see more than just a dream for myself, he gave me a vision for the world.
In 1997, I gave birth to a boy in the month of December. His first name, Noah, was given by my daughter, Lauren. His second name, La Verne, which means "the truth" in French, is after the man who personified - "doing justice, loving kindness and walking humbly with God."Ninong La Verne leaves with us a legacy of servant-leadership and Christian humility and love. For me, his greatness does not lie in his achievements, it lies in the relationships he had with each one of us here. Thank you Ninong La Verne, for your influence and guidance. It has been a privilege knowing you.